ICCF Benefits
Learn About The Advantages Of The Perfect Block ICCF System Compared To Other Building Solutions
100% Recycled Building Materials In Our Composite ICF / ICCF Block
Fire-resistant • Wind-resistant • Earthquake-resistant • Termite Free • Mold-resistant
The Perfect Block's ICCF / ICF BENEFITS
ADVANTAGES OVER "WHITE BLOCK" ICF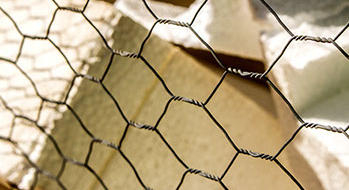 TPB Block Is The "Greener Choice"
TPB is the "greener choice" - White block is made of virgin molded EPS. There is little, if any recycled material in White block. In strict contrast to White block, each TPB has nearly 87% of its volume made of only 100% clean recycled EPS greatly reducing waste that was headed for the landfill.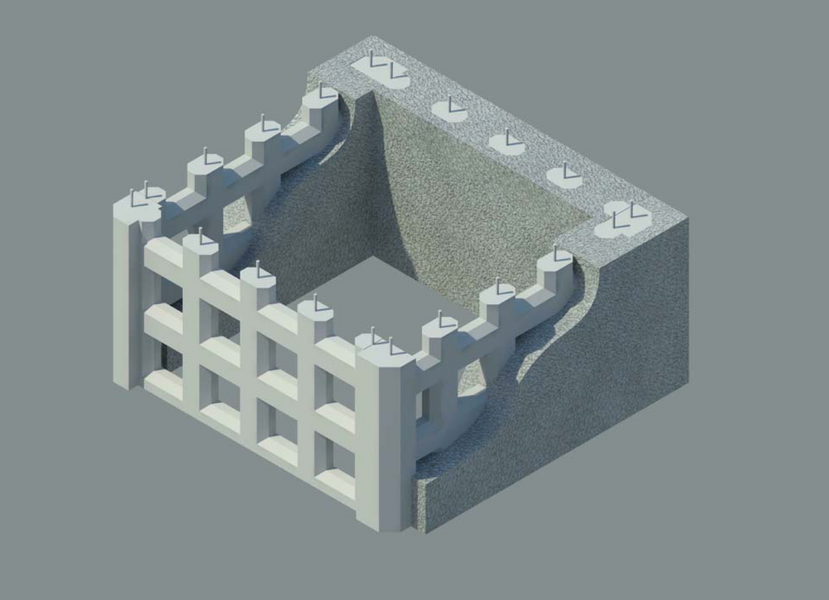 TPB Has Teeth", White Block Doesn't
"Tooth" is a term to describe a surface's ability to hold or grip a substrate. TPB's inherent textured (slightly rough) cementitious surfaces can hold cementitious exterior stuccos and interior plasters or drywall joint compound or adhesives without additional furring, layer of rigid foam or wire lath and tar paper, or house wrap eliminating many costly additional materials and labor-intensive steps required with other building materials to clad exterior and interior walls. White block has no "tooth" and requires furring and/or secured wire lath to cover with plaster or stucco.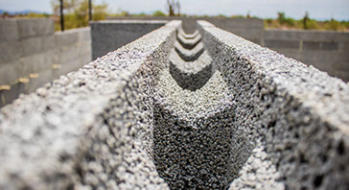 TPB Block Surfaces Can Remain Exposed For Years Without UV Radiation Exposure Damage
In contrast, white block is vulnerable to UV radiation deterioration almost immediately and must be covered soon after construction to prevent UV radiation deterioration and mechanical damage.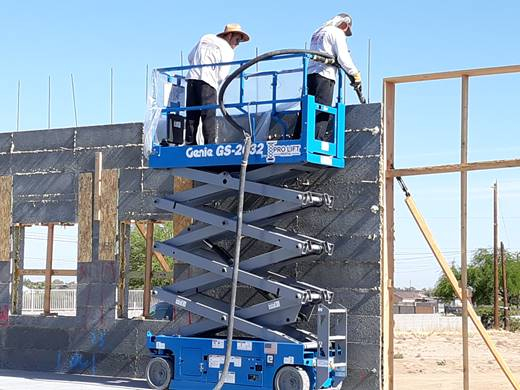 TPB requires minimal or no bracing
White block is super lightweight and a significant investment in erection and dismantling time and high rental fees or purchase costs for bracing materials and scaffolding is required to brace white block walls before grouting in order to be safe and achieve a high-quality wall that is plumb and straight and prevent the blocks from "floating" when wet concrete is poured into the blocks. The precision made TPB is denser and stronger and requires no or minimal bracing to create plumb, level, and straight walls saving time and money and TPB will not "float".
TPB ADVANTAGES OVER TRADITIONAL "GRAY BLOCK" ICF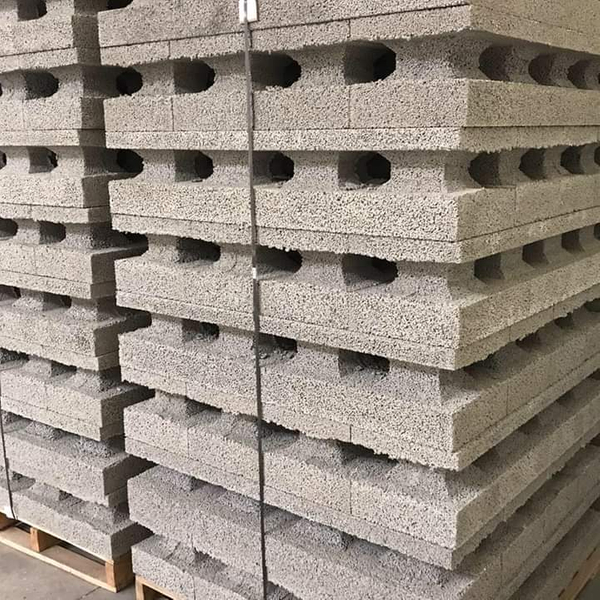 CONSISTENT SIZE, SHAPE, AND WEIGHT
TPBs are monolithic and mold-formed under pressure and under strict quality control. Therefore, each form is identical to the next allowing for easy stacking with minimal shimming and gluing and making it easier to construct walls plumb and level saving time and materials.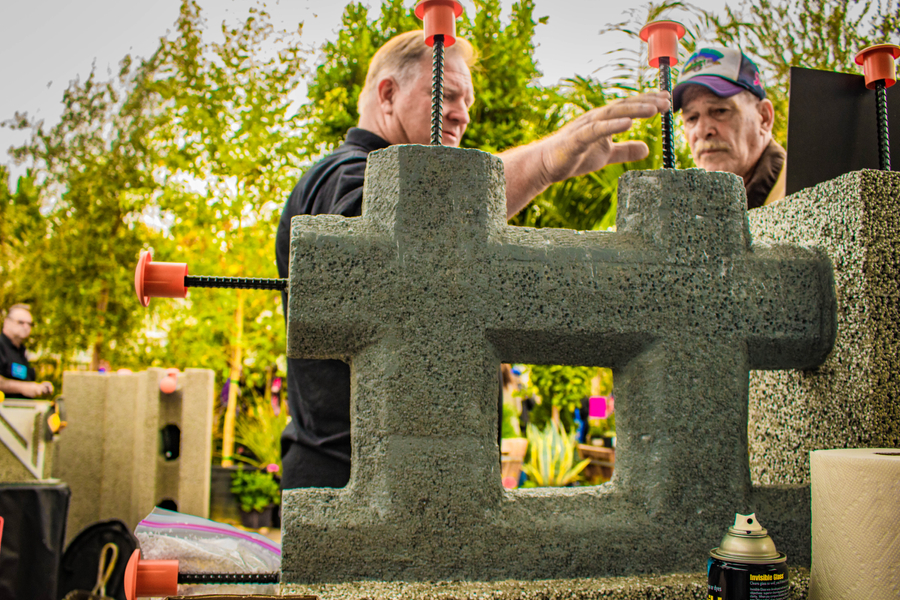 12" REINFORCED CORE SPACING
TPB cores are spaced 12" on center. This allows for increased wall strength with a tighter screen-grid pattern for concrete and rebar. Any cut block 12" or greater in length can be used for primary wall construction greatly minimizing waste.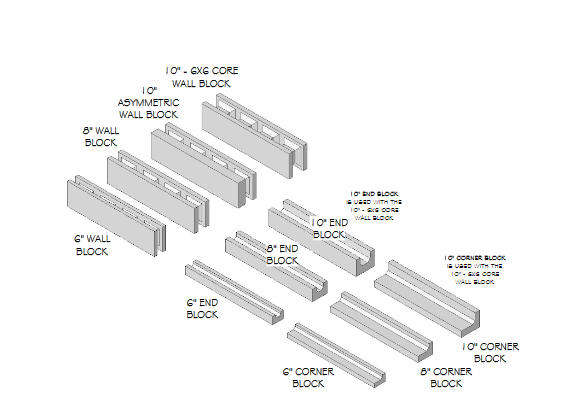 SEVERAL FORM SIZES TO CHOOSE
TPBs come in many sizes and insulation thicknesses to optimize the builder's desires and requirements.
Why Build With "The Perfect Block"?
"The Perfect Block" Is A Complete Low-Density Insulated Composite Concrete Form (ICCF) Building System With Significant Advantages Over Traditional "Stick Framing" Construction And With Other Insulated Concrete Form (ICF) Systems Or Masonry Block.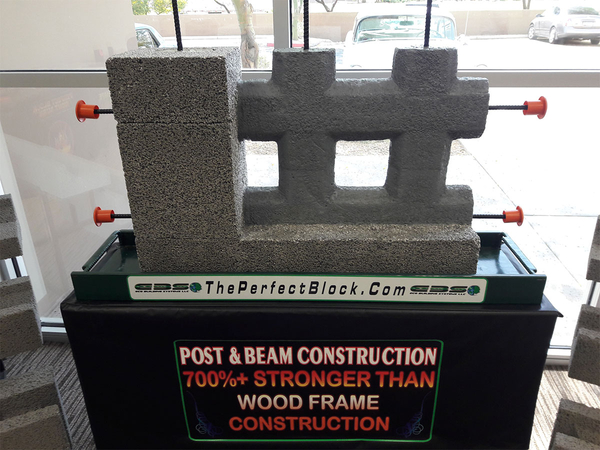 Advantages Over Traditional "Stick Framing" Construction
Strength – ICCF walls are at least 700% stronger than stick framed walls and will resist 250 mph winds
Insulation – A 10″ ICCF wall has at least 4 times greater thermal resistance than 2×6 batt insulated walls
Thermal Mass – ICCF wall thickness and density further enhance thermal resistance over stick framing and traditional construction
Fire Resistance – ICCF walls do not burn. "The Perfect BlockTM" has a 4-hour fire rating from Intertek Testing
Termite/Insect Resistance – There is no food source for termites or boring insects or rodents. Rodents won't nest in it. No dry rot will occur
Design Versatility – ICCF wall material can be easily cut and shaped into infinite and unique design features for load and non-load bearing walls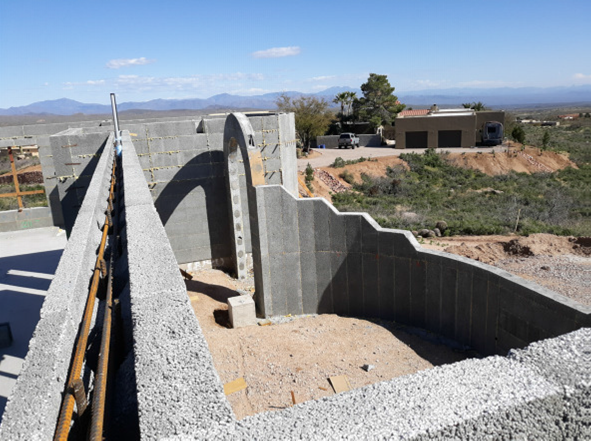 Advantages Over Masonry Block Construction
Ease of Construction - The improved size and reduced weight of a 4' block over longer and heavier blocks that require more than one person to stack greatly ease handling and assembly, saving labor, time, and materials. Because the blocks are actually forms for reinforced concrete which provides all the structure in a wall, there is no need for stacking the blocks in a "running bond" like masonry blocks. TPB can be stacked evenly above each block in the previous block course ("stack bond") saving time used for additional measuring.

Building with TPBs require no special labor skills - Building with masonry block requires skilled labor. In contrast, building with TPB can be performed by anyone with limited skills. Because of its larger but manageable size to masonry blocks, constructing with TPB will not only save you many hours of labor during the building process but can be a great experience easily building your own house.

No clean-outs needed - Most debris created during construction is EPS beads and cement dust which is lightweight and can easily be removed with compressed air before placing corner blocks during final construction.

No concrete vibration needed - With the proper concrete slump, the grout will flow freely throughout all the grid cores without vibration.

Reinforcing Bars do not need to be tied - The block cores keep the reinforcement bars in the proper position during the concrete grout pour, eliminating the need for tying.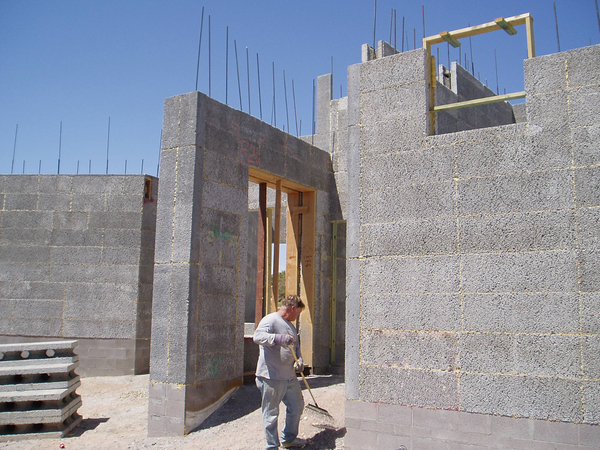 TPB Benefits For Builders
https://www.youtube.com/watch?v=are1cHzyeWs
Engineered to be highly consistent with standard residential construction dimensions

Forms are precision molded and require minimal shimming for plumb and level walls

Forms are stout and rigid and create strong straight walls requiring no or minimal pre-grout bracing and will not "float" when grouting

Forms are large enough to build walls rapidly but small enough for single person handling

Forms are easily cut with common carpentry tools

Forms are easily cut for special angles and shapes

Forms' 12" on center cores allow for any 12" or greater cut block to be used in general construction minimizing leftover building waste

In addition to a building guide for construction, EBS provides any training required for a successful build project to the contractor and crews as well as the individual owner/builder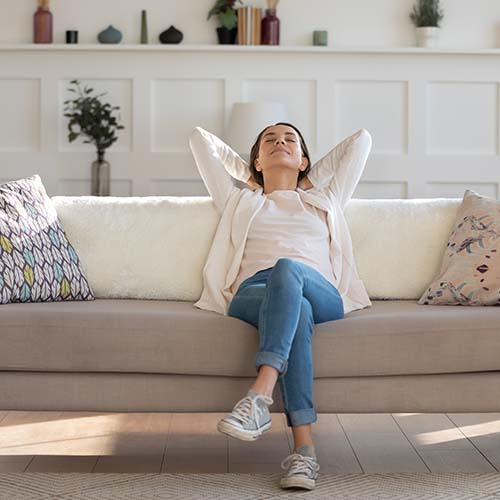 TPB Benefits For Consumers
Cost is highly competitive with wood frame construction

Structural strength of walls are many times greater than wood frame construction

Environmentally friendly forms are made with 100% recycled EPS and no wood, saving energy and forests and minimizing wastes

Higher appraisal values than conventional "stick built" buildings

Fire insurance rates are lower than wood frame construction

Forms' textured surfaces eliminate the first layers of traditional exterior and interior wall cladding, saving material costs and labor

No organic materials in ICCFs to foster mildew growth or provide food sources for boring insects

No structural damage from wood eating termites, carpenter ants, etc...

Minimal air infiltration, leaving home cleaner and utility costs lower

Reduces indoor air pollution and dust allergens

Heating and cooling costs reduced by 60-80 percent

Superior performance in hurricane and tornado prone areas and earthquake zones

Virtually eliminates outdoor noise

Reduces foundation/basement wall cracking and radon gas infiltration

Less toxic fume emissions in a fire than wood or most other insulation

Exceeds all code requirements for flame spread and smoke development

No CFCs or HCFCs

No odor or irritating fumes
WE TAKE A MODERN DAY WASTE MATERIAL (EPS), AND MAKE SOMETHING GREAT!